Quote:
Buck shot, My dad, my two older kids and I go to the Boundry water canoe area almost every year, ( not going this year). It is in Northern Minnesota on the Canadian border. It is completely primitive. No campgrounds, basically you just pitch a tent. We go to Basswood lake which allows boats with motors. we used to canoe in, but dad is getting up there in age and this is easier on him. This area is exactly the way it was when the Glaciers receeded. no signs, no lights, no cabins nothing but Gods creation. Some of the best times I have spent with dad and the two older kids. last year I had to do surgery on dads hand. He was taking a pike off and put two of the three trebel hooks through the palm of his hand. We were approximately 42 miles to the car and another 16 miles to town. The worst part is there is a two mile portage. my dad and son watch a moose walk through camp last year as well. There bears, wolfs, eagles, deer and of course great fishing.
As far as I know this is about as primative as it gets.
Sounds like a piece of Heaven. Thanks for the tip.
Quote:
No really, I've been on both sides and I know what it's like. I'll always move as far left as possible trying not to upset the cart too much. My buddies RV was the worst when I drove it, it's as though all the trucks just sucked me towards them as they passed.
Actually most of the big rigs are pretty courteous there are a few cowboys that will run you over but not many. As long as I watch the speed the airstream doesn't have a problem with trucks, espeacially since I upgraded my tow vehicle.
I run interstate 81 quite a bit. I've found that most truckers pay attention to the other cars on the road. If they see a car working with them, staying out of their way to get a run for the hills and the like, not against them, they return the favor when they get slowed down by the hills. Not to offend anyone but I think those FEDX tandems are the worst drivers on the roads. be careful out there
B&C 120 Class
Join Date: Nov 2007
Posts: 389
We call the tandems "wiggle wagons" a lot harder to control. Seen an Old Dominion driver killed yesterday when he rolled his. He was on access ramp on I-81 mile maker 8 in TN.
I pick up 81 in Scranton PA and go to Roanoke VA Then back Home is 81,84,91, then cross lots. Nice ride
Scrub Buck
Join Date: Apr 2008
Posts: 27
I have gone camping my entire life and I can't wait to go again this summer. There is nothing that compares to it in my opinion, including hunting.
Quote:
Cool is not exactly what I call them when they blow by me doing 80.
OK true story here. My primary career choice was law enforcement and my secondary choice was trucks/construction. When I was a constant truck driver I became very familiar with the I-79 from Erie to Pittsburgh and traveled it daily. I used to go like heck on that runway and when it was time for a diagnostic check up for that particular truck the boss went around asking who was the joker that had that truck going 116 mph. I did not know that the computer diag. could do that. Yes it was very dangerous and irresponsible too. Sorry off topic but lets get back to camping.
Join Date: Jan 2007
Location: Vermont
Posts: 5,701
Our First Camping trip
---
OK we headed out Friday april 18th about 6:15 pm It was a real nice ride, we drove about 4 1/2 to 5 hours before pulling into the Modena service area on the New York thruway to sleep thru the night and continue on in the morning. We all slept well but got up about 5:30ish to the loud MOOING alarm coming from the cattle hauler that just pulled in and parked next to us.

We headed into the service area, had breakfast and got back on the road to continue the drive to the campground.
we got to the campground about 12:30ish, checked in and got all setup, the campground is beautiful totally secluded in the woods just as we imagine all campgrounds should be,, very picturesque.
We needed a few things of groceries so we headed over to the grocery store and on the way back was when we saw the following picture
(story continued after pic)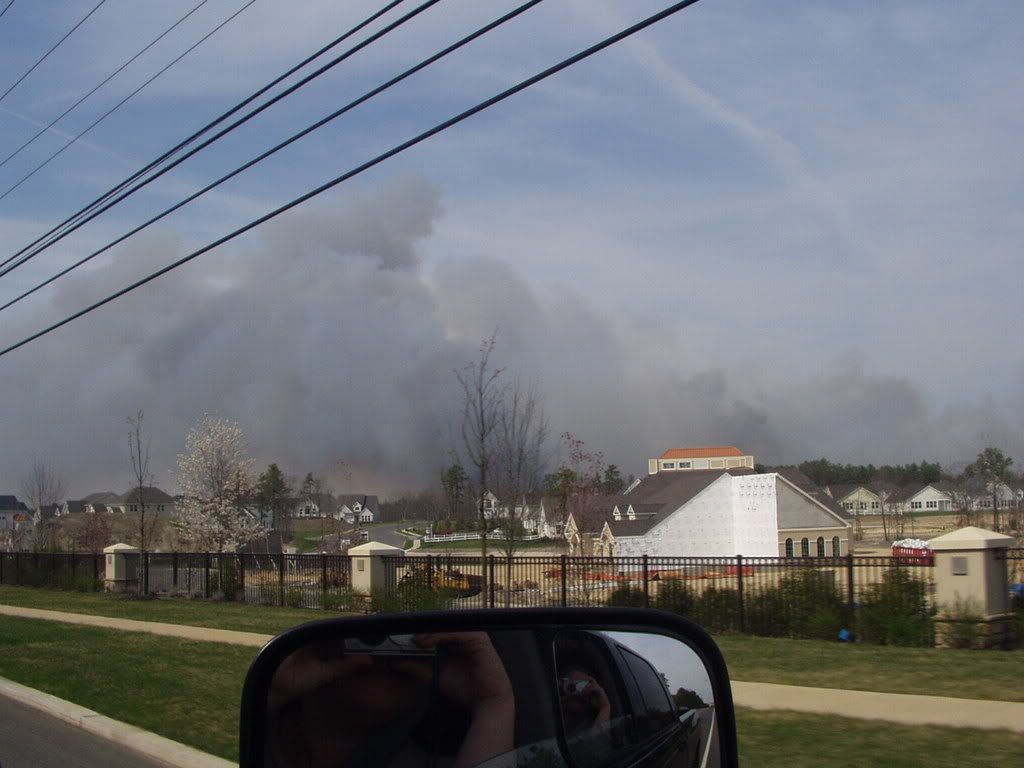 There was a forest fire back by the campground!!
Apparently there were some kids fooling around in the woods back there and ended up starting the fire (not camper kids but local yocals)
we got back to our camper and were told everyone was evacuating the area I asked the manager, "Rather than leave and come back if we could just pack up and be ready to head out if need be" she said that would be fine.
We watched the Forest Rangers, Fire Department officials and local Police as they patrolled looking for the punks that started the fire. we could also see the planes patrolling the fire along with the hellicopters carrying drop bags to extinguish the fire. (story continues after the following pic)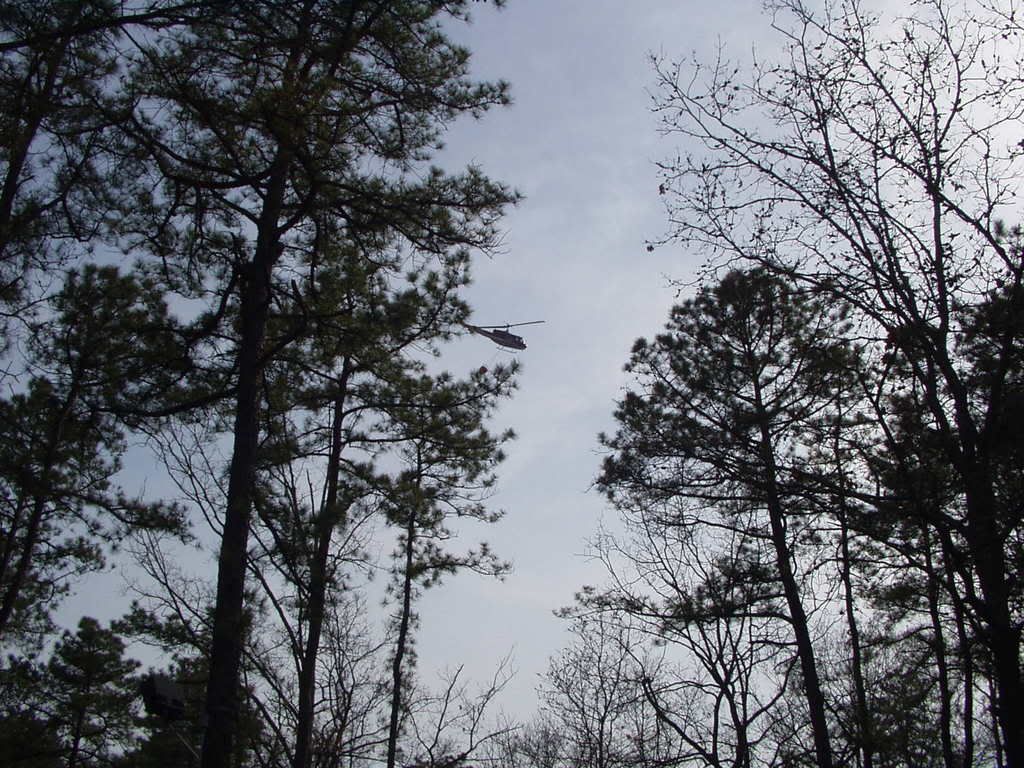 All the smoke disappeared from the sky about 6:30 but it wasn't until about 8:30ish that the area was declared safe again and we could RE-SETUP...
the Campground staff were extrememly appologetic about the situation as we kept telling them those things are not your fault and we totally understood the problem.. Last we heard they captured 2 of the teens involved and were still looking for the other 2.
We're back home now but even with all that Drama we still had a great time, understandably we didn't have any campfires, and I didn't think it would have been cool to stroll into the woods but we did take a short walk along and here's a pic of what we found..
It was a great time and I'm sure we'll go back again this summer..
---
Democracy is two wolves and a lamb voting on what to have for lunch.
Liberty is a well-armed lamb contesting the outcome of the vote.
-Benjamin Franklin

Wow Sounds Like You Had An Interesting Camping Adventure.at Least You And The Family Had Fun.nice Pictures Too
---
GRAB LIFE BY THE HORNS
Sounds like quite an adventure indeed. I guarantee you want forget the time you went camping and the forest was on fire!! Glad you had a safe trip.