My New Toy
---
Well Gang Esther and I have been looking to purchase a new Camper, while we haven't found a Camper yet We have learned that my Jeep probably wasn't going to Tow the Campers we're interested in,,, So I started looking around and searching the net for a Truck to replace my 2002 Jeep Liberty AND I'm happy to say We Got our New Truck this Morning..

It's a 2008 Dodge Ram Quad Cab 4x4 with the 5.7L Hemi, Auto Trans fully loaded with most of the bells and whistles and the Tow Package of course here's a pic.

Wish Us Luck everyone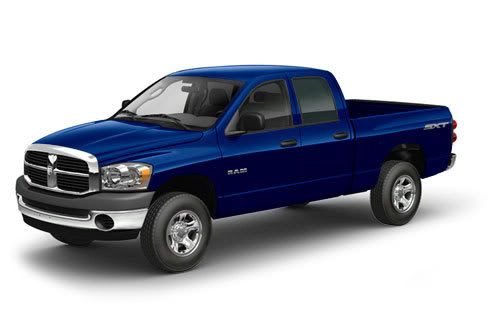 ---
Democracy is two wolves and a lamb voting on what to have for lunch.
Liberty is a well-armed lamb contesting the outcome of the vote.
-Benjamin Franklin

WOW, great truck Bruce. You ought to have a good time with that power plant.
Man, I could live in a truck like that! Point it west and join me on a hunt. Good luck.
Moderator
Join Date: Nov 2007
Location: Oregon, Ohio
Posts: 8,380
We got to have our toys, nice ride!
B&C 100 Class
Join Date: Nov 2007
Location: kenosha, Wisconsin
Posts: 92
im not much of a dodge fan but thats a nice truck, hope you make many great memories with it wether it be goin huntin or takin the family for a vacation....
---
DONT HURT EM.... HOYT EM!!!

work to live
live to hunt...
---
Last edited by buckfever; 02-24-2008 at

08:57 AM

.
NICE TRUCK. love that color and its got a HEMI
---
Now therefore take, I pray thee, thy weapons, thy quiver and thy bow, and go out to the field, and take me some venison.
Genesis 27:3 "The thinking deer hunter should mature through three phases during his hunting life. First phase, "I need to kill a deer." Second phase, I want to harvest a nice deer. And last phase, we must manage this resource so our children and their children can experience the grand tradition of good deer hunting." - Jim Slinsky
B&C 120 Class
Join Date: Nov 2007
Posts: 389
Looks good Muzzy Decals ought to blend right in.
Way to go Bruce Diffenitely more power and from what you've said about Liberty probably no harder on gas. Good Move.
Join Date: Jan 2007
Location: Vermont
Posts: 5,701
:-D Thanks for all thew kind words guys... GAS? my Jeep was a thirsty drive for sure
I'll let you know how much better the Hemi is after I fill'er up later on today but I can already tell it's a little better than the Jeep was.
Hard to believe isn't it? A Jeep 6 cyl. doesn't do as good as a Hemi 8.

The one Feature that sold me on this Dodge truck is the Lifetime Powertrain Warranty,
It includes the Engine, Transmission and all the 4wd components also.
Finally an Auto manufacturer that isn't afraid to stand behind their product for an entire lifetime.
---
Democracy is two wolves and a lamb voting on what to have for lunch.
Liberty is a well-armed lamb contesting the outcome of the vote.
-Benjamin Franklin

---
Last edited by BruceBruce1959; 02-24-2008 at

07:09 AM

.
B&C 120 Class
Join Date: Nov 2007
Posts: 389
Well as a truck driver, I'm glad you were able to do it right. Seen too many vehicles pulling loads too big for them push around in curves or unable to stop if needed. Always worries me when I see it.
Hey, your not gonna start doing those crazy commercials for them are you and try to stop on edge of cliff, drive across rails being blown by highpower fans?
nice truck.. Im jealous. My truck is barely big enough to haul me around.