deer /bear hunt
---
I finally broke down and called a outfitter.I've never gone on a guided hunt with an outfitter before.This year i had some tags left over and NY allows you to use them in the early bow season in the northern zone.Which is the adirondacks.Wells the adirondacks are huge and even though i sent away for info and i had gotten some tips i decieded it would be best to spend some extra cash and go with a guide.I got 2 deer tags 1 buck and 1 i can take either sex and a bear tag.Im going for 5 days of hunting.Its all fair chase 100% wild some is on leased private property and some state land. 3 meals a day and a place to stay.fully guided with 2 way radios and quads ladder stands and the guide will also push deer.If i want they have grouse hunting and fishing.The fee for 5 days is $1000..Im so pumped up for this im going the day of my 41st birthday.I figure i aint getting any younger and its a present i'll never forget.I was on the phone with the guy for a long time i asked all kinds of questions i checked up on his references and his BBB record ,no complaints.I have been putting a little bit away every month and the trip is paid for .I cant wait ,im sending out the deposit tomorrow.as it stands im the only one in camp that week so far,most of the clients like to gun hunt.I love the idea of having 3 tags in my pocket that i all ready paid for .He's sending me a list of things to bring and im gonna start doing a little more exercise to make my hunt even more enjoyable.Im so excited i feel like a kid at Christmas
---
Now therefore take, I pray thee, thy weapons, thy quiver and thy bow, and go out to the field, and take me some venison.
Genesis 27:3 "The thinking deer hunter should mature through three phases during his hunting life. First phase, "I need to kill a deer." Second phase, I want to harvest a nice deer. And last phase, we must manage this resource so our children and their children can experience the grand tradition of good deer hunting." - Jim Slinsky
good for you. Sounds like a very busy hunt. thats good. there are some big deer i hear up there. good luck and have fun. i got my il tags in the mail the other day and the outfitters is all payed. when is your trip?
Join Date: Jan 2007
Location: Vermont
Posts: 5,701
Congratulations Joel, I hope you have HUGE success...
There's big deer and tons of bear in the Adirondacks.
We went to Lake George on Sunday, just for a drive, anyway on the way
home in Hague NY just standing there right on 9N, I spotted a nice Doe,
Esther pulled over so I could take a picture and stopped literally right in front
of the deer Here are her pictures as she posed nicely for the camera...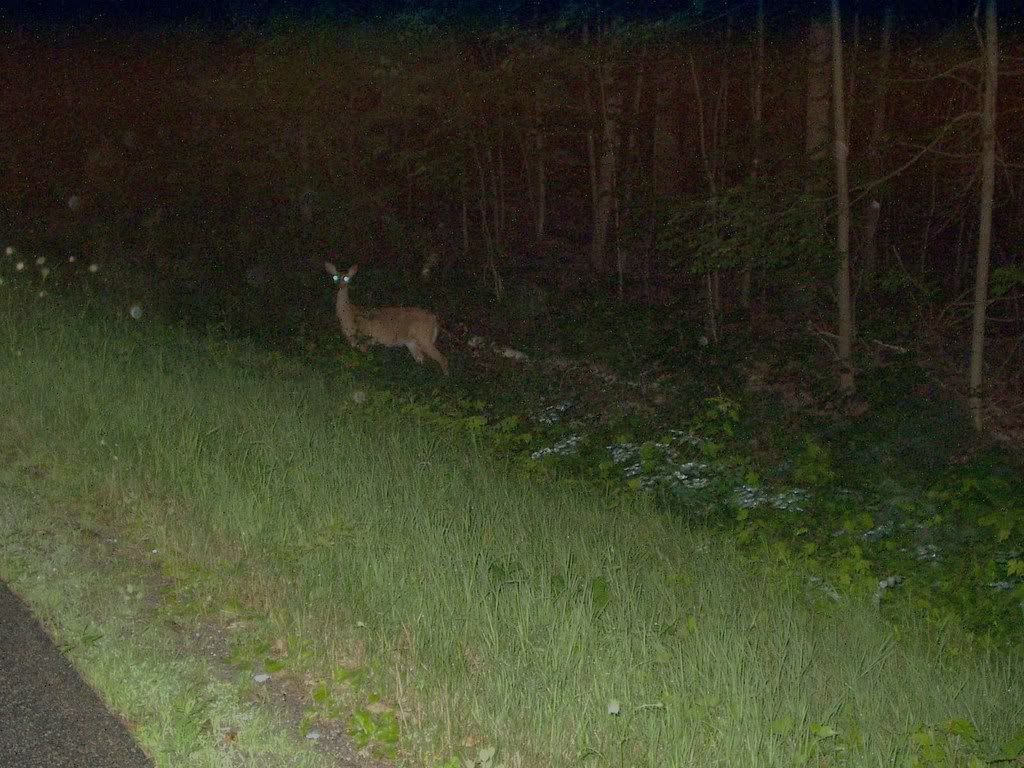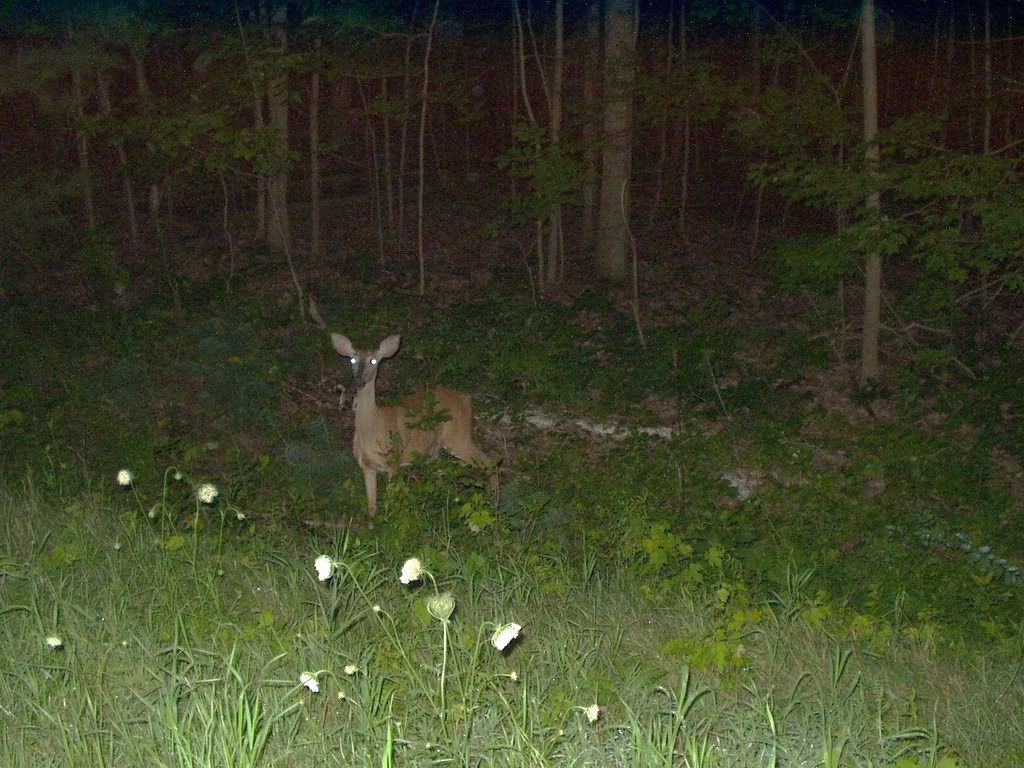 ---
Democracy is two wolves and a lamb voting on what to have for lunch.
Liberty is a well-armed lamb contesting the outcome of the vote.
-Benjamin Franklin

B&C 140 Class
Join Date: Jan 2008
Location: Maryland
Posts: 790
---
Joel that sounds like a heck of a deal to me!
Sounds like a good deal. I like the fact that its all fair chase and you dont have to break the bank to go. Good luck. Hopefully a couple more good hunters go to camp too. That would make it all the better. Hope you get a monster.
Ditto on the good deal. That sounds like a great trip.
B&C 100 Class
Join Date: Oct 2007
Location: Akron, Ohio
Posts: 138
Very cool
I can't wait to hear how it goes.
I was hunting in essex county 5h .the conditions were the worst hot 70's and raining .we tried different spots different stands nothing,not even seeing deer.I normally would let this little guy pass but my guide said not a lot of deer this year due to winter kill so i should take the first deer i saw.this was it.i was hunting off the ground sitting behind some pine branches on the ol 5 gal pail had 2 shooting lanes based on the wind i figured the deer would approach from the right,he did.around 830 i heard a branch snap i looked down to make sure i was clipped in to the loop i look up and he's staring me in the eyes broadside at 20- 25 yrds.i dont move a muscle just stare back.i have on full camo including gloves ,facemask ,scentloc suit and rubber boots.he stares me up and down,no foot stomp or head bob.he moved hid head behind the lone tree blocking our view.i raised up and drew.thwack right behind the shoulder.he kicked and took off running down the trail to the truck..i could see my blood covered arrow sticking out of the ground.bright red bubbly blood.he wasnt going far.i heard a crash in the distance.i called the guide he came in from the other way he found blood.i worked my way down the blood trail ,it was everywhere,the deer ran off the main trail after 100yrds and died in a clearing.10 yrds off the trail.upon field dressing i knicked the heart got both lungs and knicked the liver.he was quatering more than i thought.he was probably dead while he was running,just didnt know it.the drag was an easy one.back at camp by 930.didnt see another deer all week
---
Now therefore take, I pray thee, thy weapons, thy quiver and thy bow, and go out to the field, and take me some venison.
Genesis 27:3 "The thinking deer hunter should mature through three phases during his hunting life. First phase, "I need to kill a deer." Second phase, I want to harvest a nice deer. And last phase, we must manage this resource so our children and their children can experience the grand tradition of good deer hunting." - Jim Slinsky
Joel good luck with your hunt.you will be in my neck of the woods at least where i hunt.and yes there are some super bucks up here.you never know you could have the next nys record book buck!!again good luck!!
---
GRAB LIFE BY THE HORNS
Moderator
Join Date: Nov 2007
Location: Oregon, Ohio
Posts: 8,381
Very nice Joel, good start on the freezer fill up.